Facial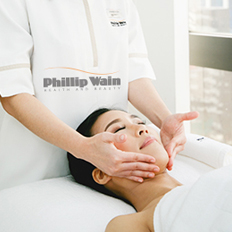 The facial treatment programs are offered with the safest innovations and richest skincare products from leading foreign brands such as Suisse Programme from Switzerland, Anne Semonin from France, Pevonia from USA, Phytomer from France and many more. There are over 35 programs for different facial skin conditions to ensure that your facial skin gets the best nutrients.
Cell Code Magnetic (CC-M)
CC-M treats the deeper levels of cells with natural magnetism to transfer 100% natural nutrients from Rëjeune products, which uses the supercritical extraction method to distill the extractin order to preserve 100% of the nutrients. You will feel a noticeable difference since the first treatment as CC-M significantly improves facial skin structure to reveal firmer and smoother skin.
V Max 28
An age-reverse innovation from U.S.A. with the high intensity focused ultrasound (HIFU) that penetrates deeply into the Superficial Muscular Aponeurotic System (SMAS) layer– the deepest layer covering the facial artery and musculature to destroy old collagen and stimulate new and strong collagen production. The Dermo28 product from Italy also focuses on recovering and improving the life cycle of skin cells naturally every 28 days with natural extracts including vitamin A, E, C; almonds; hydrocotyleleucocephala; yeast; and platinum peptide. There are two facial mask options for different skin types.
ICY
A copyrighted science of anti-aging by using ice-cold vapor by Ice Cube. The Ice Cube products are filled with the nutrients from white indigo, deep-sea springs, and brown algae. The program also includes lymphatic massage with essential oil and firming trace element that penetrates deeply into facial arteries to stimulate collagen production. The results are smooth skin, tight pores and firm facial skin.
B-Lift An innovation from USA using L-Smart Light Therapy and Pevonia products. With their copyrighted natural Botox procedure through freeze dried marine protein, the skin is tightened and deep wrinkles on the face are eliminated. The Botox is non-abrasive, hence is risk-free and refills every 6 months are unnecessary.
Suisse Programme Platinum Luxury I (SPL I)
A cellular recovery program through massage and energy charging approaches. With platinum, pomegranate flower, and caviar protein in the SP Platinum Precious Line product from Switzerland, it helps with balancing the natural mechanism of electronic anions and cations in skin cells. This contributes to glowing and healthy skin.
โปรแกรมดูแลผิวหน้า
โปรแกรมการปรนนิบัติผิวหน้า ด้วยทางเลือกของนวัตกรรมที่มีความปลอดภัยสูงสุด ผสมผสานผลิตภัณฑ์อาหารผิว โดยแบรนด์ชั้นนำจากต่างประเทศ อาทิ Suisse Programme จากสวิตเซอร์แลนด์, Anne Semonin จากฝรั่งเศส, Pevonia จากสหรัฐอเมริกา, Phytomer จากฝรั่งเศส และอื่นๆ อีกมากมาย เพื่อให้มั่นใจได้ว่าผิวหน้าของคุณจะได้รับอาหารผิวที่ดีทีสุด กับทางเลือกโปรแกรมปรนนิบัติผิวที่มีมากกว่า 35 โปรแกรม เพื่อสภาพผิวหน้าที่แตกต่าง
Cell Code Magnetic (CC-M) การปรนนิบัติเซลล์ผิวชั้นลึกด้วยแม่เหล็กธรรมชาติในการส่งผ่านสารอาหารธรรมชาติ 100% จากผลิตภัณฑ์ Rëjeune ซึ่งใช้เทคโนโลยีในการสกัด Supercritical Extraction Method จึงทำให้สารอาหารคงอยู่เกือบ 100% เน้นการฟื้นฟูโครงสร้างใบหน้าให้ยกกระชับและเนียนละเอียด ที่รู้สึกแตกต่างเพียงครั้งแรกที่ทำ

V Max 28 นวัตกรรมย้อนวัยด้วย HIFU จากสหรัฐอเมริกา ที่จะส่งผ่านคลื่นโฟกัสตรงยังชั้น SMAS (ชั้นลึกสุดถึงระดับหลอดเลือดและชั้นกล้ามเนื้อมัดบน) เพื่อทำลายคอลลาเจนเสื่อมสภาพ พร้อมกระตุ้นระดับเซลล์ผิวให้กลับมาสร้างและผลิตคอลลาเจนใหม่ที่คุณภาพดีและแข็งแรง ประกอบกับผลิตภัณฑ์ Dermo28 จากอิตาลี ที่เน้นการฟื้นฟูและการปรับวงจรชีวิตของเซลล์ผิวตามธรรมชาติในทุก 28 วัน ด้วยสารสกัดจากธรรมชาติ ประกอบด้วย Vitamin A, E, C เมล็ดอัลมอนด์ ใบบัวบก ยีสต์ และ Platinum Peptide พร้อม 2 ทางเลือก สำหรับผิวที่แตกต่างกับการ Mask

ICY เวชศาสตร์ชะลอวัยด้วยไอเย็นจากน้ำแข็ง ลิขสิทธิ์เฉพาะ Ice Cube จากฝรั่งเศสที่อุดมไปด้วยสารอาหารจาก White Indigo น้ำพุจากทะเลลึกและสาหร่ายสีน้ำตาล ประกอบกับเทคนิคการนวดไปตามจุดต่อมน้ำเหลืองด้วย Essential Oil + Firming Trace Element ที่ลงลึกถึงระดับหลอดเลือดในการกระตุ้นคอลลาเจน ผลลัพธ์ที่ได้คือผิวเรียบเนียนละเอียด รูขุมขนกระชับ พร้อมความแน่นของผิวหน้า

B-Lift นวัตกรรมจากสหรัฐอเมริกา ด้วย L-Smart Light Therapy ร่วมกับผลิตภัณฑ์จาก Pevonia ด้วยลิขสิทธิ์เฉพาะ Natural Botox ในรูปแบบ Marine Protein Freeze Dried จึงทำให้ผิวหน้ามีความตึงแน่น เติมเต็มร่องลึกตามจุดต่างๆ บนใบหน้า เป็นการ Botox แบบธรรมชาติ ไร้ซึ่งความเสี่ยงและไม่ต้องเติมทุก 6 เดือน

Suisse Programme Platinum Luxury I (SPL I) การฟื้นฟูเซลล์ผิวหน้าด้วยการนวดและ Charge พลังให้เซลล์ผิวหน้า เพื่อกลไกธรรมชาติที่สมดุลด้วยประจุลบและบวกของอิเลคตรอนในเซลล์ผิว ด้วยผลิตภัณฑ์จากสวิตเซอร์แลนด์ SP Platinum Precious Line ที่อุดมไปด้วยแร่แพลตินั่ม ดอกทับทิม โปรตีนจากคาเวียร์ ผลลัพธ์ที่ได้คือผิวจะเปล่งปลั่งสุขภาพดีอย่างแตกต่าง