Massage & Spa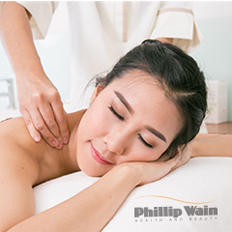 There are over 10 body scrub programs using products filled with the luxury of nature's miracles. Other massage programs, designed to indulge you with a truly relaxing experience, are provided by professional staffs with over 10 years of experience.
Velvet Series (Velvet)
A peeling program for those who want their skin to feel as soft as velvet on. There are two options for different skin conditions: silk protein from Cashmere and pink crystal salt from Himalayan for sensitive skin or bamboo fiber and water lily & lotus from France for dry and wrinkled skin. In the last step, Boswellic and milk protein help to renew elastin and collagen for radiant skin.
Deep Impact Massage (DIM)
A massage program with special techniques in line with sports science principles to treat tendons and muscles. The 100% pure essential oil from France also helps remove extreme lactic acid and toxins in the body, as well as increasing oxygen levels and stimulating the peripheral nervous system for a more efficient performance.
Bio Detox Magnetic (BDM)
A holistic massage therapy which uses natural magnetism following the biological clock concept. Vital nutrients will be transferred through acupuncture points to recover 12 internal organs and remove synthetic hormones resulted from daily lifestyles affected by food and environment. These hormones cause premature organ degeneration, thus leading to premature puberty or premature menopause. This program helps achieve a yin-yang balance and strengthens all 12 internal organs for good health, as well as firm and bright skin.

Pearly a la carte (Pearly) The premium peeling program available exclusively at Phillip Wain.
Pearly offers peeling services with three different options of sea pearls as follows:
• South Sea Pearl from Tahiti focuses on peeling, cellulite treatment and skin firming.
• Gold Pearl suits those with combination skin and wrinkles. It focuses on skin detox.
• Akoya White Pearl suits those with sensitive skin. It focuses on smoothening skin complexion and lightening skin.
Reborn
An Eastern women's skincare secret. Keep the signs of aging at bay with a scrub filled with goji berry and ginseng over six years old to help facilitate blood circulation, promote natural skin cell regeneration and deeply clean pores.
BLOCK & LOCK (B&L)
A massage therapy which helps improve blood and oxygen circulation inside the head. Uneven circulation is caused by muscle and tendon tension of the neck and shoulders on a continuous basis for a prolonged time. This leads to uneven flow of blood and oxygen of the upper body and can be solved by the trigger point massage therapy approach in line with the anatomical guidelines. Delightful L'occitane and Jurlique products also help balance your mind and body simultaneously.
สปาทรีตเมนต์
โปรแกรมขัดผิวที่มีมากกว่า 10 ทางเลือก ด้วยมหัศจรรย์จากธรรมชาติ และโปรแกรมการนวดที่หลากหลาย เน้นการบำบัดเพื่อการผ่อนคลายอย่างแท้จริงด้วยเจ้าหน้าที่ที่มีประสบการณ์มากกว่า 10 ปี
Velvet Series (Velvet) เพื่อผิวสวยเนียนนุ่มดุจกำมะหยี่ พร้อมเปล่งประกายในวันสำคัญ ด้วย 2 ทางเลือกในการปรนนิบัติผิว อันได้แก่ การผลัดเซลล์ด้วยโปรตีนไหมจาก Cashmere และ Crystal Salt สีชมพูจาก Himalayan สำหรับผิวบอบบาง หรือเยื่อไผ่ + Water Lily & Lotus จากฝรั่งเศส สำหรับผิวแห้งและมีริ้วรอย พร้อมการเพิ่มประกายให้ผิวในขั้นตอนสุดท้ายด้วย Boswellic และ Milk Protein เพื่อฟื้นฟูอิลาสตินและคอลลาเจน

Deep Impact Massage (DIM) ศาสตร์การนวดด้วยเทคนิคพิเศษ ลงลึกถึงระดับเส้นเอ็นและกล้ามเนื้อ โดยหลักการวิทยาศาสตร์การกีฬา ผสานกับน้ำมัน Essential Oil 100% จากฝรั่งเศส เพื่อลดอาการคั่งค้างของกรดแลกติกและสารพิษตกค้างตามส่วนต่างๆของร่างกายพร้อมเพิ่มออกซิเจน และกระตุ้นการทำงานของระบบปลายประสาทให้มีประสิทธิภาพมากขึ้น

Bio Detox Magnetic (BDM) การบำบัดแบบองค์รวมด้วยแม่เหล็กธรรมชาติตามคอนเซ็ปต์นาฬิกาชีวิตในการส่งผ่านสารอาหารจำเป็นไปตามจุดฝังเข็ม เพื่อเน้นฟื้นฟูอวัยวะทั้ง 12 ตำแหน่ง พร้อมทั้งเน้นการขับฮอร์โมนสังเคราะห์ที่ปนเปื้อนมากับการใช้ชีวิตประจำวัน ทั้งอาหาร สิ่งแวดล้อม ซึ่งเป็นสาเหตุให้อวัยวะต่างๆภายในร่างกายเสื่อมถอยก่อนวัยอันควร เช่น เด็กผู้หญิงมีประจำเดือนเร็วขึ้น หรือภาวะ Menopause ที่มาก่อนวัยอันควร ผลลัพธ์ที่ได้คือ การเกิดความสมดุลของภาวะหยินหยางในร่างกายพร้อมสุขภาพดีจากความแข็งแรงของอวัยวะภายในทั้ง 12 ตำแหน่ง ส่งผลให้ผิวพรรณกระชับและสดใส
Pearly a la carte (Pearly) โปรแกรมผลัดเซลล์ผิวสุดเอ็กซ์คลูซีฟ เฉพาะที่ ฟิลิป เวน โดยเป็นการผลัดเซลล์ผิวด้วยไข่มุกจากท้องทะเลกับ 3 ทางเลือก ได้แก่ :-
South Sea Pearl จากตาฮิติ (Tahiti) เน้นการผลัดเซลล์พร้อมลดผิวเซลลูไลท์และเพิ่มความกระชับให้กับผิว
Gold Pearl เหมาะสำหรับผิวผสม มีริ้วรอย และเน้นการ Detox ของเสียในผิว
Akoya White Pearl เหมาะสำหรับผิวบอบบาง เน้นการปรับสีผิวให้สม่ำเสมอและขาวใส

Reborn เคล็ดลับการดูแลผิวของผู้หญิงตะวันออก ในการชะลอวัยด้วยสูตรขัดผิวด้วยโสมอายุมากกว่า 6 ปี และโกจิเบอร์รี่ ที่ช่วยเรื่องการไหลเวียนของเลือดและเพิ่มอานุภาพในการผลัดเปลี่ยนเซลล์ผิวธรรมชาติ พร้อมทำความสะอาดรูขุมขนอย่างล้ำลึก
BLOCK & LOCK (B&L) การนวดบำบัด เพื่อการปลดล็อคการไหลเวียนเลือดและออกซิเจนที่ไม่สามารถไปหล่อเลี้ยงบริเวณศีรษะได้ตามธรรมชาติ อันเนื่องมาจากกล้ามเนื้อและเส้นเอ็นบริเวณคอ บ่า ไหล่ เครียดตึงต่อเนื่องเป็นเวลานาน ส่งผลให้เลือดและออกซิเจนขาดความต่อเนื่องในการหล่อเลี้ยงบริเวณช่วงบน กับเทคนิคการนวดพิเศษแบบ Trigger Point ตามแนวสรีรศาสตร์อย่างแม่นยำด้วยผลิตภัณฑ์ของ L'occitane และ Jurlique เพื่อช่วยปรับสมดุลร่างกายและจิตใจในเวลาเดียวกัน