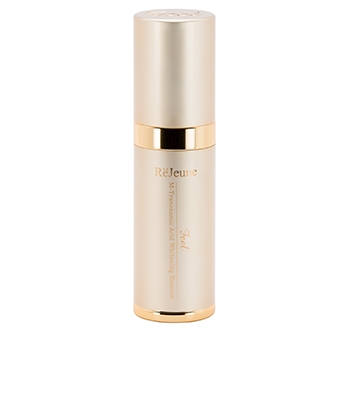 M-Tranexamic Acid Whitening Essence
According to medical researches, tranexamic acid (TXA) can help lighten the skin, prevent tyrosinase enzyme to function, and protect the skin from UV rays which produce melatonin. It can help prevent wrinkles and aging skin as well as reduce inflammation and lighten skin.

Moreover, the essence contains Azelaic acid, Trehalose, and Hyaluronic acid extracted from white jelly fungus, which helps strengthen the subcutaneous tissue and tightens and brightens skin evenly. The essence will keep your skin supple but not sticky, with its soft, smooth and light feel.

The tranexamic acid, Azelaic acid, Trehalose, and Hyaluronic acid will help strengthen the tissue, reduce skin melanin and protect your skin from UV rays - the cause of darker complexion. It can also prevent inflammation from UV rays by 32%.
จากการยืนยันทางการแพทย์พบว่า กรดทรานนิซามิกกระตุ้นให้ผิวขาวกระจ่างใสและยับยั้งการทำงานของเอนไซม์ไทโรซิเนสและป้องกันผิวจากแสงยูวีที่จะกระตุ้นการเกิดเมลาโทนิน ทำให้ไม่เกิดริ้วรอยก่อนวัยอันควร ลดการอักเสบและช่วยให้ผิวกระจ่างใส

นอกจากนี้ยังมีกรดอะเซลาอิก ทรีฮาโลสและกรดไฮยาลูโรนิกสกัดจากเห็ดหูหนูขาว ซึ่งจะช่วยฟื้นฟูความแข็งแรงให้กับชั้นเนื้อเยื่อใต้ผิวหนัง ช่วยให้ผิวกระชับและกระจ่างใสอย่างสม่ำเสมอ เอสเซ้นส์มีความชุ่มชื้น ไม่เหนียวเหนอะหนะ ทำให้รู้สึกเนียนนุ่มและยืดหยุ่นเมื่อสัมผัส

ด้วยกรดทรานนิซามิก กรดอะเซลาอิก ทรีฮาโลส และกรดไฮยาลูโรนิก จึงช่วยฟื้นฟูความแข็งแรงของชั้นเนื้อเยื่อ พร้อมลดปัญหาเม็ดสีและปกป้องผิวจากรังสียูวี ที่จะทำให้ผิวหมองคล้ำ และป้องกันอาการอักเสบจากรังสียูวีได้ถึง 32%