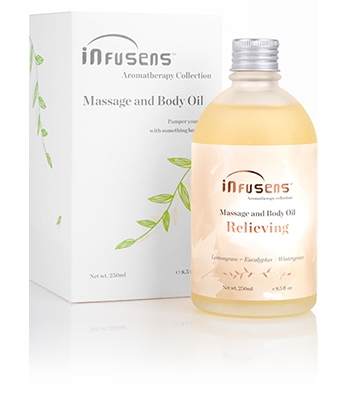 Infusens Massage & Body Oil
This contains a premium essential oil from Australia, certified by the FDA of Australia. Revive and nourish skin, remove waste and toxins, as well as relax your muscles through the following four options:
Relaxing: Lavender, kaffir lime, and plants in the mint family for relaxed muscles and deep sleep.

Detoxifying: Rosemary, grapefruit and plants in the pine family enhances efficiency of liquid circulatory system and removes toxins.

Relieving: Lemongrass, eucalyptus and salacca wallichiana extract reduces muscle weakness and relaxes muscles.
Organic: Sunflower seed extract, sweet almond and Camellia oil perfectly suits sensitive skin.
อุดมด้วย Essential Oil คุณภาพสูงจากออสเตรเลีย ที่ได้รับการรับรองจาก FDA ประเทศออสเตรเลีย เพื่อฟื้นฟูและบำรุงผิว ขับของเสียและผ่อนคลายกล้ามเนื้อที่ตึงเครียดด้วย 4 ทางเลือก ได้แก่
Relaxing: ลาเวนเดอร์ มะกรูด พืชตระกูลมิ้นท์ เพื่อการผ่อนคลายและทำให้หลับสบาย
Detoxifying: โรสแมรี่ เกรปฟรุต ไม้ตระกูลสน เพิ่มประสิทธิภาพการไหลเวียนของระบบของเหลวในร่างกายและขับ Toxin
Relieving: ตะไคร้ ยูคาลิปตัส และสารสกัดจากระกำ ลดอาการกล้ามเนื้ออ่อนล้า เพื่อการผ่อนคลาย
Organic: สารสกัดจากเมล็ดทานตะวัน สวีตแอลมอนด์ และน้ำมันดอกคามิลเลีย สำหรับผิวแพ้ง่าย และบอบบาง