About US / เกี่ยวกับ
Phillip Wain, the luxury health and beauty club for ladies, was established in Hong Kong since 1977. The business has rapidly expanded to four countries in Asia-Pacific, which are Hong Kong, Singapore, Malaysia and Thailand.


For over four decades in the beauty and healthcare business, Phillip Wain has been focusing on holistic wellness to include Fitness, Aerobic, Pilates Studio and Beauty Programs such as Slimming, Facial, Spa, Hair Studio and Health Juice Bar. With the Health Quotient (HQ) concept, Phillip Wain values wellness alongside beauty, where a strong inner health and wellbeing leads to real outer beauty.
In addition, Phillip Wain is also prominent in terms of services. There are specialists ready to provide exclusive services and advices regarding innovations and quality products selected from all over the world. With utmost privacy and premium facilities, it is no surprise that Phillip Wain has gained trust from a large number of leading ladies in Asia-Pacific.
In Thailand, there are two branches of Phillip Wain as follows:
- Ratchaprasong Club

- Lardprao Club
The beauty and healthcare service covers an area over 2,000 sq.m., with more than 150 specialists and professional staffs to attend to the modern women's needs. Moreover, the innovations and premium products from all around the world, including Switzerland, the United States of America, Italy, Germany and France, make Phillip Wain outstanding and a trusted choice for prominent women in Asia-Pacific. Our aim is to assure that our members will receive premium and superb services like nowhere else.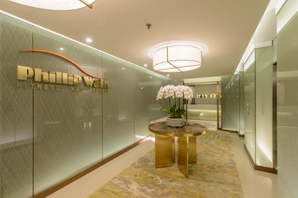 ฟิลิป เวน คลับสุขภาพและความงามสำหรับสุภาพสตรี ก่อตั้งขึ้นในปี 2520 ที่ฮ่องกงและขยายตัวอย่างรวดเร็วในภาคพื้นเอเชียแปซิฟิกใน 4 ประเทศ ได้แก่ ฮ่องกง สิงคโปร์ มาเลเซีย และไทย
กว่า 4 ทศวรรษในธุรกิจความงามและสุขภาพที่ฟิลิป เวน เน้นการดูแลแบบองค์รวม ครบครันทั้ง Fitness, Aerobic Studio, Pilates Studio โปรแกรมความงาม ไม่ว่าจะเป็น Slimming, Facial, Spa, Hair Studio และบาร์สุขภาพ ประกอบกับแนวคิด HQ (Health Quotient) ที่ให้ความสำคัญกับการดูแลสุขภาพควบคู่กับความงามเพื่อให้เกิดความแข็งแรงและสุขภาพดีจากภายในสู่ความงามภายนอกที่แท้จริง
นอกจากนี้ ฟิลิป เวนยังโดดเด่นในด้านการบริการ ซึ่งมีผู้เชี่ยวชาญเฉพาะทางที่พร้อมให้บริการแก่ท่านสมาชิก พร้อมให้คำแนะนำ นวัตกรรมและผลิตภัณฑ์คุณภาพที่ผ่านการคัดสรรจากทุกมุมโลก ประกอบกับความเป็นส่วนตัวพรั่งพร้อมด้วยสิงอำนวยความสะดวกในระดับพรีเมี่ยม จึงไม่น่าแปลกใจที่ ฟิลิป เวน จะได้รับความไว้วางใจจากผู้หญิงแถวหน้าในภาคพื้นเอเชียแปซิฟิก
สำหรับ ฟิลิป เวน ประเทศไทย ปัจจุบันเปิดให้บริการ 2 สาขา ประกอบด้วย
- คลับราชประสงค์
- คลับลาดพร้าว

บนพื้นที่ให้บริการทางด้านความงามและสุขภาพกว่า 2,000 ตารางเมตร พร้อมบริการด้วยผู้เชี่ยวชาญ และเจ้าหน้าที่ที่มีความชำนาญเฉพาะทางกว่า 150 ท่าน เพื่อตอบสนองความต้องการของผู้หญิงยุคใหม่
นอกจากนี้ การคัดสรรนวัตกรรมใหม่ๆ พร้อมผลิตภัณฑ์คุณภาพสูงจากทั่วทุกมุมโลก อาทิ สวิตเซอร์แลนด์ สหรัฐอเมริกา อิตาลี เยอรมัน ฝรั่งเศส ยังเป็นอีกหนึ่งความโดดเด่นที่ทำให้ ฟิลิป เวน ได้รับความไว้วางใจจากสุภาพสตรีชั้นนำในภูมิภาคเอเชียแปซิฟิค ทั้งนี้ เพื่อให้สมาชิกได้มั่นใจว่าจะได้รับการบริการในระดับพรีเมี่ยมที่ดีที่สุดแตกต่างจากสถานบริการอื่นๆ